The US Army's Future Affordable Turbine Engine (FATE) programme, an effort to come up with engine performance enhancing technologies, is nearing completion and should be wrapped up by the end of 2020.
GE Aviation, which funded the effort with the US Army, has successfully tested two unnamed engines as part of the programme, GE Aviation says on 13 October.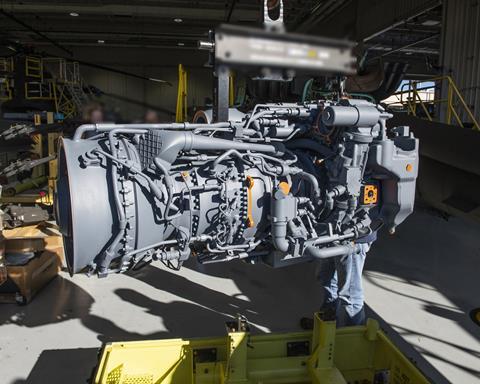 The programme is intended to develop and demonstrate a group of enhancing technologies that can be built onto existing or next-generation turbines that are in the power range of 5,000hp (3,730kw) to 10,000hp.
The initiative's enhancement goals include a 35% reduction in specific fuel consumption, an 80% improvement in power-to-weight ratio, a 20% improvement in design life and 45% reduction in production and maintenance costs relative to currently fielded legacy engines, says GE Aviation.
"We're pleased with the results from engine and component testing, which completed all primary objectives," says Harry Nahatis, vice-president of GE Aviation's rotorcraft and turboprops programmes.
The company says it successfully tested the technologies on two engines. "GE has also completed several component tests, including the inlet particle separator, compressor, combustor and turbine," it adds. "The full engine test program completed over 130 hours of testing and captured more than 2,200 steady-state data points."
Some of the technologies are already finding their way onto US Army turboshaft engines, including GE's T901-GE-900, which is to replace the powerplants on the US Army's UH-60 Black Hawk utility helicopter and Boeing AH-64 Apache attack helicopters as part of the Improved Turbine Engine programme. The new T901 is to be 50% more powerful – 3,000shp – 25% more fuel efficient, and provide a 20% longer design life over the T700 that currently powers the UH-60 and AH-64.
The 7,500hp GE T408 engine that powers the US Marine Corps' Sikorsky CH-53K King Stallion may also benefit from the technologies, GE Aviation says. The T408 is also a contender for powering the US Army's Future Long Range Assault Aircraft. As part of a separate effort, GE Aviation is developing and flight demonstrating a variant of the T408 on the Boeing CH-47 Chinook.