Certification tests of the Bell 525 Relentless "are finishing" says Bell, but the date when the super-medium, twin-engined helicopter will cross the finish line remains undisclosed.
The company has built five aircraft for its flight test programme, it says on 29 September. Another four aircraft are in production.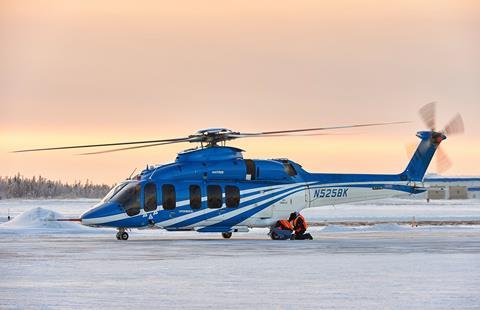 Test aircraft have accumulated about 1,600h of flight time, says Joe Twomey, Bell 525 flight test pilot. That's about 100h more of flight time since December 2019.
Bell is currently working on flight characteristics certification, avionics company tests, interior compliance, says Twomey. It is nearly finished with several ground-based tests including fatigue tests, which are 90% complete, supplier tests, which are 92% complete, and drive system tests, which are 90% complete, he says.
Federal Aviation Administration certification testing yet to be complete include avionics and autopilot, handling qualities and performance, engine and auxiliary power unit operation, electrical system and lighting, and functional and reliability assessments, says Twomey.
Despite characterising the 525 certification testing as wrapping up, Bell declines to say when the aircraft will finish its evaluation and enter service. "The aircraft is flying spectacularly and the team feels great about where it is but in terms of getting through the FAA certification process, we can't commit to a date," says the company.
In December 2019, Bell stopped making predictions when the 525 would finish certification testing. The company had previously said the helicopter would be ready in 2019.
Even prior to that, the aircraft's flight testing programme had been set back several years after one of the 525 helicopters crashed and killed two test pilots in 2016. Bell originally aimed to introduce the helicopter into service in 2015 or 2016.
The Relentless has a 16-seat capacity, a marinised airframe, a 580nm (1,074km) range and a max cruise speed of 160kt (296km/h). It also would be the first commercial helicopter with fly-by-wire flight controls. Bell says those features would make it ideal to safely transport workers to and from offshore oil & gas rigs.
The oil & gas industry has been hit doubly hard by a downturn in petroleum prices and the economic fallout from the coronavirus in 2020. That's put financial pressure on Bell's likely customers, though the company declines to discuss the impact on 525 sales.
"Bell is not currently sharing our order book publicly," the helicopter manufacturer says. "The Bell 525 program has been focused on FAA certification and entry into service. Bell will continue to share customer interest with their consent, but Bell will not disclose the details of previously announced or future customer [letters of intent]."